Barcelona – Spain's ecclectic, new-age arts and cultural centre – is a massive metropolis packed with a myriad of things to see and do. Stroll along the beachfront boulevards, go on a bike tour around downtown Barcelona or enjoy the sounds and smells of the food market on a walking tour. Then, head to he contemporary art museums, savor a delectable meal by the beach or venture into the mountains of Catalonia. Not ready to call it a night? Dance the night away in one of the popular clubs in town. Experience Barcelona and you'll see that there is no shortage of thrilling sights to see and memorable things to experience.
Location
Barcelona, the capital of Catalonia and the second largest city in Spain, is located on the Mediterranean coast, between the mouths of the rivers Llobregat and Besòs. Its location in the north-west corner of Spain makes it an easy spot to take a side-trip to France and explore the tumultuous mountain range of Pyrenees stretching across the border between the two countries.
How to get to Barcelona
International travelers arrive in Barcelona via Barcelona International Airport (BCN). Several budget airlines fly to Barcelona, linking Barcelona to cities all over Europe. There is no shortage of cheap flights to Barcelona from Madrid or Paris, just try to book your flights in advance to get lower airfares.
Barcelona is well connected to the rest of Europe by rail as well. Most trains to Barcelona depart from Marseille, Nice and Montpellier (all in France).
Ferries connect Barcelona to Italy (Genoa and Rome). It's actually cheaper to come from Rome by ferry rather than by bus. Thanks to the proximity, it is a good idea to combine Spain and Italy in your vacation.
More information on:
>> Getting from Madrid to Barcelona
>>Getting from Barcelona to Mallorca (and return)
>>Getting from Barcelona to Fuerteventura (and return)
Weather
Barcelona has a Mediterranean climate. The summers are warm and dry, while the winters are humid and mild. Snowfalls are very rare. The hottest months are July and August, with temperatures ranging between 19 C / 66 F and 28 C/ 82.4 F. The coldest months are January and February when the temperatures range between 5 C / 41 F and 14 C / 57 F.
DOWNLOAD OUR TRAVEL GUIDES
FOR FREE
The busiest month is August but about 10% of facilities are closed as the owners go on vacations themselves. This is also the time of the year when most Barcelona summer music festivals are held, so be sure to book your Barcelona hostel in advance.
The best time to visit is in April, May and mid-September when the humidity and temperatures are comfortable for sightseeing. Weather in Barcelona is generally pleasant and sunny all year round.
What to do in Barcelona
Whether you're only here for a few days or a week, or you've added Barcelona to your RTW trip itinerary, there are plenty of things to keep you busy.
Sagrada Familia
Among Gaudi's many masterpieces, the Sagrada Familia cathedral has earned a reputation as perhaps the most magnificent. Its production began in the late 19th century and has continued since Gaudi's death; the city of Barcelona projects that it will be open for service sometime in 2010. Many areas of the cathedral are not generally open to the public, but those that are certainly merit a visit.
Barri Gòtic
Known to Anglophones as the Gothic Quarter, the area surrounding Sagrada Familia is a collection of courtyards, antique shops, boutiques, and flea markets. As the old town of Barcelona, Barri Gòtic provides visitors a chance to explore some of the city's lesser-known sites while getting the opportunity to enjoy local art and music.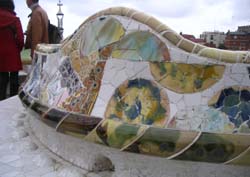 Park Guell
Also created by Gaudi is Park Guell, always a visitor favorite. Despite its name, Park Guell is more of an artistically and architecturally magnificent display, including a few foresty pathways, a large terrace showing off Gaudi's mosaic-like patterns, a handful of colorful statues, and two unique kind Gaudi-inspired buildings.
Picasso Museum
Although not originally from Barcelona, Picasso spent a good portion of his life in and out of the city. In honor of the world famous artist the Museu Picasso was created to house an enormous collection of his work. This particular museum distinguishes itself from others by showing not only Picasso's most famously bizarre pieces, but many of his early paintings as well.
Las Ramblas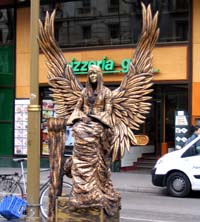 This one-mile stretch is an enthralling boulevard of people and sound, color and aroma. You'll find everything from fabulously designed buildings to outgoing street vendors. The packed assortment of businessmen, wanderers, and street performers create an eye-catching mixture of activity.Beware of pick-pockets, but don't let the hustle startle you away from the unbeatable energy. Instead, imagine La Rambla as an ongoing street fair giving Barcelona the right amount of panache.
Montjuïc
The large hill overlooking the city once acted as host to the Olympic summer games. Now it remains a not-to-be-missed site for tourists hoping to get a panoramic view of Barcelona as well as the chance to discover more of its history and culture. You'll find the National Palace, several museums, the Olympic stadium, a famous cemetery, the Magic Fountain, botanic gardens, and more.
City Bike Tours
Instead of taking the metro or bus, bike tours in Barcelona give you a chance to explore the city thoroughly without wasting time and money. Barcelona tours by bike are very popular these days, especially with young, active travelers. There are generally two types of bike tours in Barcelona: self-guided and guided. For self-guided tours, you'll be given a lightweight mountain bike, a map, a detailed information leaflet and a helmet, and you'll be on your way. Guided tours tend to go in a group, with your guide stopping at points of interest for some explanations.
You may also enjoy a hop on hop off Barcelona tour.